Are you having a bad hair day? Your comb may be the answer. The type of comb or brush you opt for can also significantly affect the health of your hair; the reason why snagging the best comb money can buy is essential for the well-being of your mane. So today, we'll tell you about different types of combs.
Did you know that different comb types have different shapes, teeth, bristle placements and, most importantly, serve other purposes! Believe it or not, many people are at a loss when it comes to this beauty tool. But combs have the extraordinary power to elevate your look or tame it down, whatever the situation demands.
Therefore, knowing the different types of combs will put you on the right track to finding the mane of your dreams. Think of combs as essential hair tools you need to give your hair that little extra help. Check out below more about the types of combs, and feel free to pick your favorite.
Combs Brief History
The comb has been around for a long time, with archaeologists finding many combs that can be dated back to 2,500 B.C. The comb is one of the oldest tools used by ancestors long ago, with the first comb found in Sweden. At that time, the comb was used as a decorative piece and a tool to comb people's hair. Also, combs were given as burial gifts from 1900 to 500 B.C., and they were made of bronze and bone.
What are the types of combs?
Among the basic types of combs, we find:
The wide-tooth comb. This should be the order of the products on your bathroom shelf. Shampoo, conditioner, and a wide-tooth comb. It helps you distribute the conditioner evenly through the lengths of your hair and detangle it. They are suitable for all hair types.
Fine tooth comb with a sharp tail. The fine-tooth comb allows you to style your braids and fringes and also back-comb to create volume. The sharp tip at the back will enable you to section your hair, giving you the freedom to style.
Fine tooth comb. The fine-tooth comb is used for getting hairs all in place. You might wish to start with a wide-tooth and finish with the fine-tooth model. Do it slowly, as it might hang up in thick manes, and you can lose more hairs if you want. It depends on the amount you have to spare.
Lice comb. Pesky lice and nits can soon be a thing of the past, and how? The lice comb, specially designed to rake through the scalp and hair, helps drive out the nasties.
Barber comb. Most people have seen barber combs and know their use. They allow the barber to trim and cut without getting too close to the head. It is similar to guards who are on the electric clippers.
Pocket combs. The pocket comb is undoubtedly a handy tool and has a side with finer teeth. It is used for many purposes. Most men are often familiar with the kind of tool, and nothing else needs to be said.
Rake comb. Rake comb has its name for good reason. This looks like a garden rake. It is suitable for untangling long hair. It allows people to rake through the hair with minimum pain. This is an excellent method to straighten your hair.
Teasing comb. The teasing comb is often used by taking some strand of hair and holding it straight. It would help if you had a long hairstyle for this to be more effective.
All-purpose comb. You can see something that looks like a pocket comb but is very much more significant. These are also called all-purpose combs. These are sturdy tools that work well for many things. But, due to the size, they are often best left at home.
Types of Combs
These Tail Combs are the perfect tools for setting hair and creating professional styles for all hair types in short to medium hair lengths.
Extra-long pintail.Incredibly lightweight. Comfortable handle to hold suitable for salon, barber, and cosmetic.
Fine length teeth with serrated edges good for teasing hair, suitable for salon, barber, and cosmetic supply kits.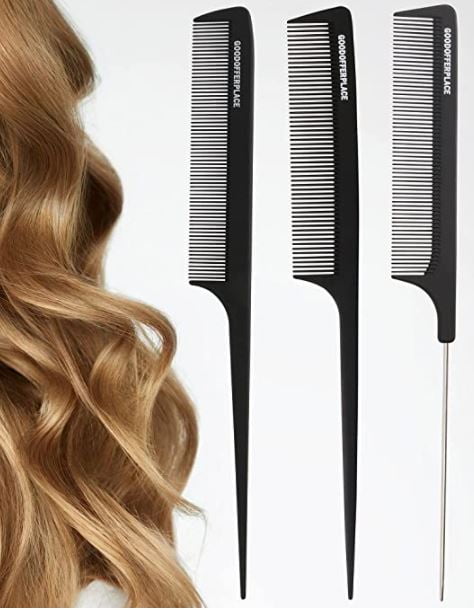 Features:
Pintail Combs
Heat-resistant
Static Free
7 Inches long all-purpose flat back styler hair comb. Numbered ruler on one side for precise sectioning.
Hair-cutting combs made of nitrile rubber. Long-lasting.
100% professional quality for combining proper rigidity and flexibility. Hair comb will not absorb sterilizing solutions, perms, conditioners, shampoos, oil, water, and others.
Krest combs are designed with the selective professional in mind and made exclusively for your hair styling needs.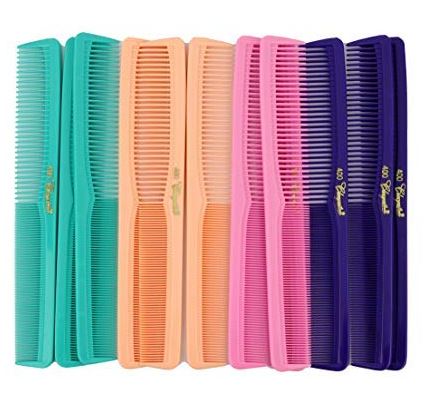 Features:
Long-lasting nitrile rubber
7 Inches long
Flexible
The wide, rounded teeth are designed to detangle without breaking your hair or damaging your scalp—ideal for long, thick hairstyles.
This wide-tooth comb is for curly hair, long hair, dry or wed hair. Hair combis made from durable, thick plastic, withstand daily use with no problem.
Feels delicate, teeth are smooth, does not pull or hurt hair. The handle has round holes for easy hanging.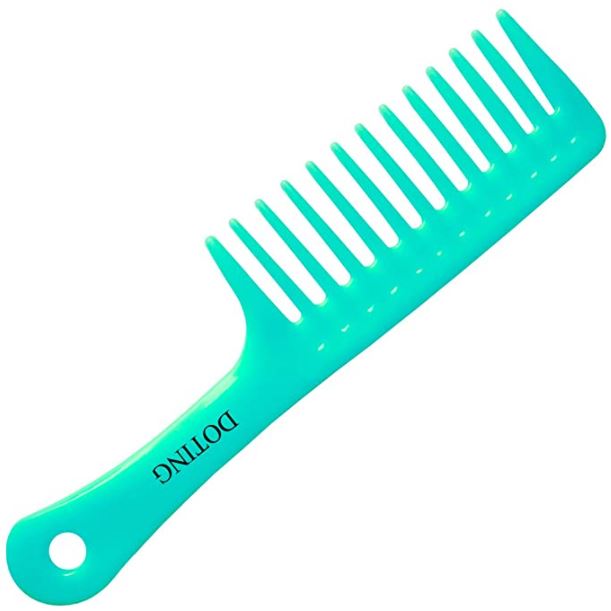 Features:
Plastic
Wide-tooth
Durable
Made of High Quality 100% Natural Green Sandalwood, Each Hair Comb are Crafted with refined traditional handicrafts.
They are crafted with refined traditional handicrafts, well polished, smooth, and seamless. It helps to relieve tension and stimulate the scalp; it can also prevent tangled hair and split ends.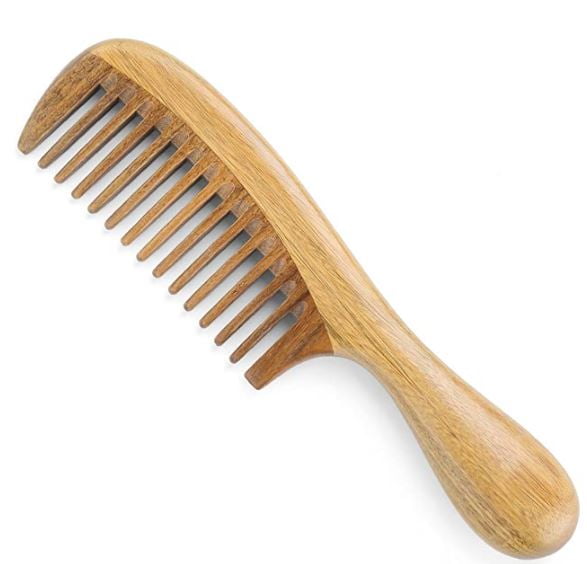 Features:
Anti-Static
Stimulates scalp
Wood, plastic
This premium 5-inch hair comb will help you comb and detangle at home or on the go. Designed with fine comb teeth, hair can be styled and groomed with precision.
Made for durability, this plastic hair comb is the perfect tool for everyday use. Great for thin to medium hair, it's easy to have a good hair day every day.
Perfect size for keeping in your back pocket. Goody is the World's most recognized manufacturer of hair styling tools and accessories.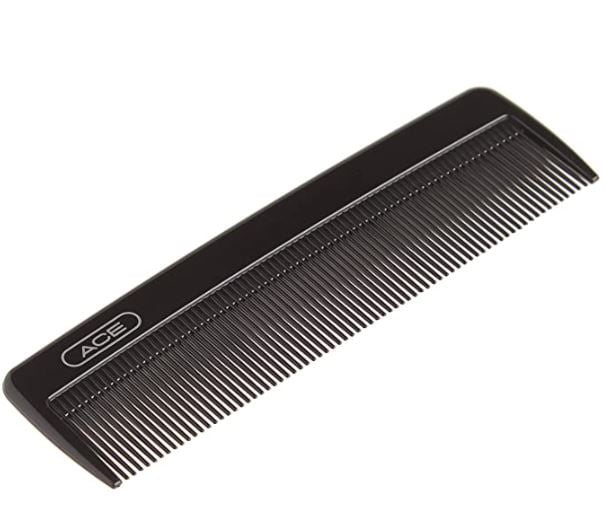 Features:
Plastic
Thin
Everyday use
Common Questions About the Different Types of Combs
What type of comb should I use?
Whenever you put a part in your hair, having a nice comb is helpful. If you have straight, shorter hair, you should use a comb with a handle and smaller teeth. For wavy, thicker hair, a wide-tooth comb works best to maintain the natural pattern of your curls.
Which hair comb is best for hair?
The best brushes for fine hair are extra-soft boars' bristle hair brushes, which are gentle on the hair and scalp and maximize natural shine. They have stiff bristles that help to detangle without pulling out hair.
Is a brush or a comb better?
Brushes are better than combs when you want to achieve a wide range of hairstyles. The comb is recommended when your hair is still wet. Use a wide-tooth comb to undo any knots or tangles on your hair when you massage it in the shower. A comb is also an ideal tool to use when you want to smoothen your hair.
What are combs made of?
You can find plastic, metal, and wooden combs. Plastic and metal combs and brushes can cause static in your hair because they have a positive electrical charge, and hair have a negative electrical control that attracts hair to the comb causing static and/or frizz. Static and frizz allow the hair strand to dry out and become brittle, not to mention it doesn't look good.
And plastic and low-quality metals are bad for the environment and nonrenewable, unlike wood. Wooden combs can't conduct electricity, so they keep your hair free from static damage.
Are our wooden combs better for hair?
Wooden combs are often lighter in weight and have softer bristles, minimizing damage to the scalp and improving blood flow. This, in turn, can improve the quality of hair, make you feel more relaxed, and produce oil more naturally, causing scalp dryness and itchiness to go away.
No matter what your hair type is, wooden combs are like mothers that care for your hair. They treat gently and support overall hair health.